Our sterile surgical sutures have been produced in Switzerland since 1962 when Mr. Willy Baerfuss and his friends Dr. Jean-Michel Junod, Surgeon FMH and Louis Chassot, Pharmacist founded the company Sutramed Sàrl. in the watch/precision industry region of Switzerland.
In the early 1970's, the joint-venture company Astra-Sutramed SA was formed
in Lausanne together with the Swedish pharmaceutical group Astra AB to market the products in Scandinavia under the brand name Astra sutures. This successful venture made the company decide to market the products worldwide under that brand until Astra AB in the mid 1980s concentrated itself again on pharmaceuticals and decided not to be involved any longer in medical devices.
As a consequence, the Lausanne based marketing company was renamed Assut SA and the brand changed to Assut sutures.
In 1996, after a re-organization, the company became Assut Medical Sàrl
with headquarters in Pully-Lausanne and production facilities remaining at the same industrial site. It is 100% family Baerfuss owned and heading toward the third generation. Increased activities in marketing, R&D and product innovation with a renewed technical team give the assurance of a constant and modern upgrading of service
to the surgical field worldwide.
Since 1998, Assut sutures and Assut knives have been certified CE and are nowadays marked and certified CE-0344 by Dekra Certification B.V., the Netherlands. Assut sutures are produced according to the US and European Pharmacopeia.
Swiss Assut made products are present
in over 50 countries through exclusive
or independent national distributors
and are used daily worldwide, inclusive in Switzerland. Famous International health organizations are among our regular customers. The worldwide network of distributors are constantly in contact with
us and each distributor is known personally to us. 2011 is the year when we launched
Assut sutures and Assut knives on the Chinese market, where Swiss quality
finds high recognition.
The South American market has been serviced since 1992 by our wholly owned subsidiary Assut Medical Ltda, also certified ISO 13485:2016 by BSI. Assut Medizinische Produkte GmbH in Germany, our wholly owned subsidiary acts as our EU representative and services
the German market.
Assut Medical Sàrl develops, manufactures and markets sterile surgical sutures and microsurgical knives.
Among the few suture companies in the world to do so, Assut Medical Sàrl produces its own atraumatic surgical needles with its own-built machines and equipment, with decades of experience. In addition to its large range of needles and surgical sutures, a line of microsurgical knives has been created in 1998.
With our factory situated in the Swiss
watch-industrial region where the production of fine precision products are a part of the Swiss heritage, our in-house technicians
and outside technical consultants
are a recognized asset.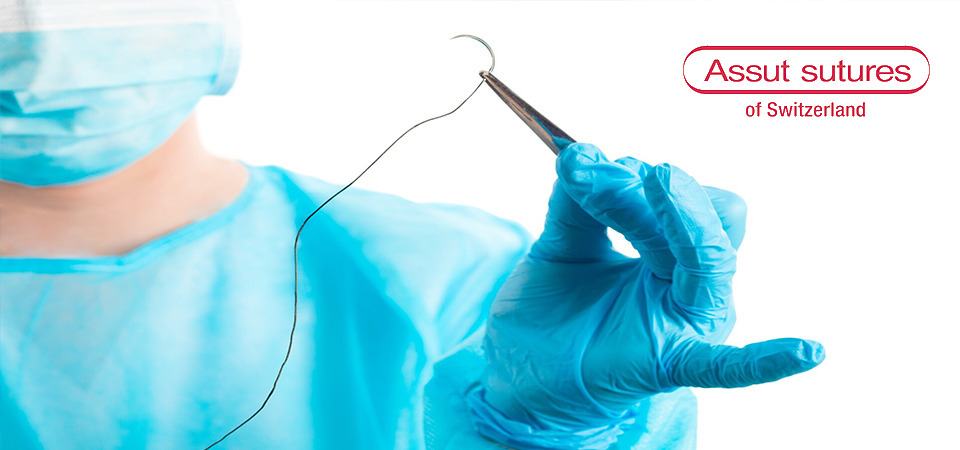 Our internally designed and self-built,
latest generation automatic needle production machines, operating since 2010, result from this heritage. Assut sutures are designed and made for all surgical specialties, from the finest needle and
USP size of thread to the largest retention
needle and thickest USP suture size.
Whether absorbable natural and synthetic sutures or non-absorbable sutures, Assut sutures meet the Surgeon's modern requirements. Our assortment allows
us to challenge the largest multinational competitors and we present ourselves as an alternative to these large groups. Disposable Assut knives are made in a full assortment to satisfy ophthalmic surgery requirements.
The Assut Medical group of companies employ over 150 people and are constantly on alert to satisfy daily challenging needs
in the surgical and medical field around the world with their dedicated and enthusiastic staff and employees.